The official opening of the exhibition "Petr Konchalovsky. To the evolution of the Russian avant-garde" took place in the State Russian Museum. The following guests were present at the opening: Deputy Prime Minister of the Russian Federation Alexander Zhukov, ex Prime Minister of France Dominique de Villepin, the founders of the Petr Konchalovsky Foundation Andrey Konchalovsky and Nikita Mikhalkov as well as the director of the Foundation Alexander Konov.
The honourable guests of the opening were the first to see the exhibition: the director of the State Tretyakov Gallery Irina Lebedeva, the director of Musée de l'Orangerie Emmanuel Breon, the chief curator of Petit Palais Maryline Assante, the curator of the Royal Academy Ann Dumas, the grandson of Paul Cézanne Philippe Cézanne and other representatives of the world of art and art market.
The welcoming speech for the organizers and the visitors of the exhibition was given several hours in advance by the Minister of Culture of the Russian Federation Alexander Avdeev at the international conference "Russia and the Global Cézanne Effect, 1900-1950".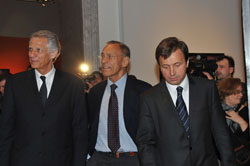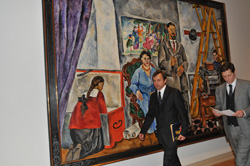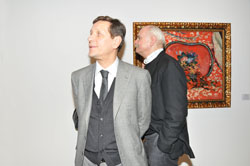 For more detail check the Photoalbum later.